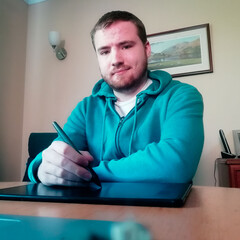 Matthew Hewitson
Concept Artist & 3D Assets Designer
Durham, United Kingdom
Summary
Graduated from the University of Sunderland In 2021 having gained a 2:1 in Animation and Games Art. Course modules included;
- Advance 3D
Produced 3D sculpted models (Maya).
- Advanced VFX and motion graphics
Constructed low-poly 3D digital animals for a music video (Maya).
- Dissertation
Researched and analysed the use of microtransactions in video games including games targeted at children.
- Major project
Designed and fully developed 3 characters, based on Japanese mythology, into 3D mesh models. (Maya and Photoshop)
- Client projects:
produced 2D digital character projects for commercial uses and for independent commissioned work.
Skills
Concept Art
Environment Design
Rendering
3D Animation
3D Modeling
Character Design
Prop Design
photobashing
Software proficiency